EEOC Issues New Guidance on Harassment in the Workplace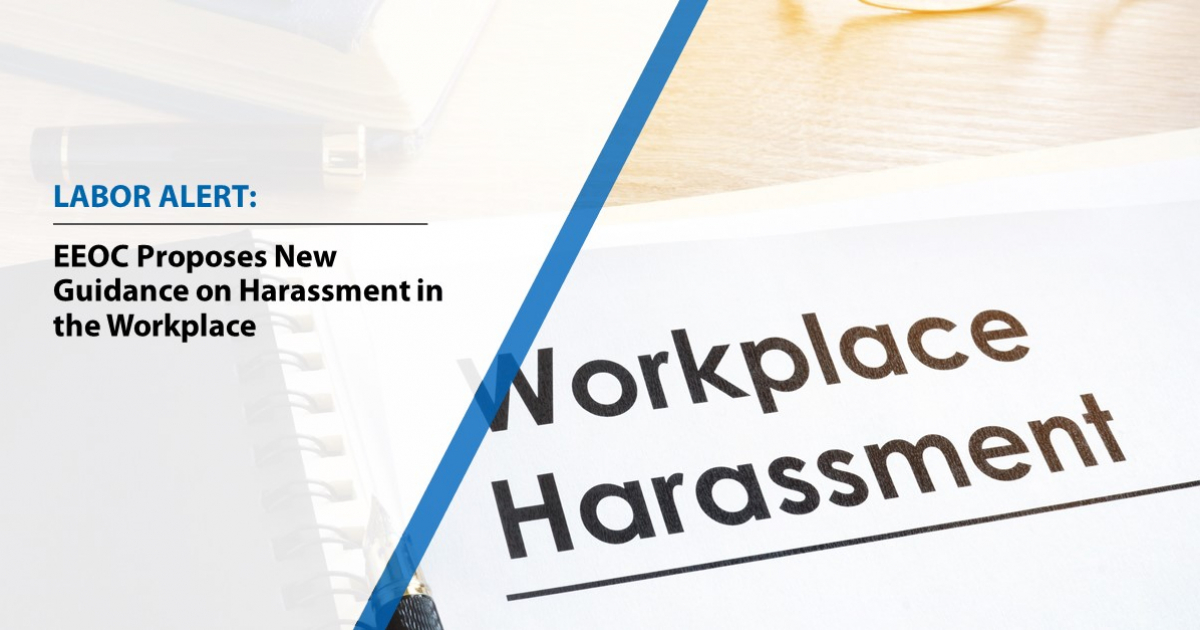 On September 29, the U.S. Equal Employment Opportunity Commission (EEOC) issued its proposed "Enforcement Guidance on Harassment in the Workplace." The proposed guidance is available for review online, and the public is invited to submit comments until November 1. The guidance does not reflect a substantive change in current law and standards but seeks to update EEOC guidance based on current case law and the implication of new developments such as social media and other online tools. It also provides guidance for how the EEOC will interpret the law's application in certain circumstances.

For example, the guidance incorporates the ruling in Bostock v. Clayton Cnty., Georgia, 140 S. Ct. 1731 (2020) and clarifies that "sex-based discrimination [and harassment] includes discrimination [and harassment] based on sexual orientation and gender identity." Included as examples of harassing conduct that violate such standards are "epithets regarding sexual orientation or gender identity, physical assault, harassment because an individual does not present in a manner that would stereotypically be associated with that person's gender, the intention and repeated use of a name or pronoun inconsistent with the individual's gender identity (misgendering), or the denial of access to a bathroom or other sex-segregated facility consistent with the individual's gender identity." Additionally, the EEOC clarifies that sex-based harassment includes harassment based on "pregnancy, childbirth, or related medical conditions, including lactation . . . [and] a woman's reproductive decisions, such as decisions about contraception or abortion."

The guidance also clarifies that harassing conduct can affect an employee's work environment even if it is not directed at such an employee (e.g. an employee overhears racial epithets that are not directed to such employee). Such a hostile environment can even exist if the conduct is not performed in the employee's presence. For example, if an employee is aware of harassing behavior in the workplace, and the awareness of such behavior is sufficiently related to the employee's work environment, it can constitute a hostile work environment. This can even include conduct that occurs off-site and apart from work hours (e.g. an employee is harassed or assaulted by a coworker at an off-site location).
Additionally, the EEOC clarifies that certain virtual conduct can create a hostile work environment. Specifically, harassment may occur on "work-related communications systems, accounts, or platforms, such as an employer's email system, electronic bulletin board, instant message system, videoconferencing technology, intranet, public website, or official social media accounts." Examples of harassing conduct using such tools can include a "sexist comment made during a video meeting, racist imagery that is visible in an employee's workspace while the employee participates in a video meeting or sexual comments made during a video meeting about a bed being near an employee in the video image." Such harassing conduct can even include certain non-work-related contexts. To provide an example of such a circumstance, the EEOC presents a hypothetical where an employee is the subject of epithets made on another person's social media page, which is either seen by the employee or is discussed at work by coworkers who viewed such epithet. In such a hypothetical, the EEOC would interpret the employee to be subject to a hostile work environment.

In response to the updated guidance, employers should review the EEOC's guidance and review their anti-discrimination and anti-harassment policies to ensure that they meet the EEOC's standards. Employers should consider adding examples of violating conduct, based on the recent developments in case law. Additionally, employers should take the opportunity to make sure that the EEOC's standards are incorporated into the regular anti-discrimination and anti-harassment training it provides to its employees and supervisors.

If you have any questions about the EEOC's new guidance, or if you need assistance in ensuring that your policies are compliant with the current legal standards, please contact your Kunzler, Bean & Adamson Attorneys.